Theme Number 61 From Malta to Rome
Act 28:12
At Syracuse we put in and stayed for two days.
Act 28:13
From there we came round and reached Rhegium; and a day later, a south wind sprang up which brought us by the evening of the next day to Puteoli.
landing at Syracuse
— the ancient and celebrated capital of Sicily, on its eastern coast, about eighty miles, or a day's sail, north from Malta.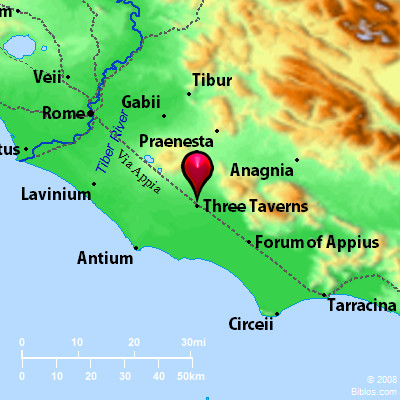 we tarried there three days
— probably from the state of the wind. Doubtless Paul would wish to go ashore, to find out and break ground among the Jews and proselytes whom such a mercantile center would attract to it; and if this was allowed at the outset of the voyage (Act_27:3), much more readily would it be now when he had gained the reverence and confidence of all classes with whom he came in contact. At any rate we cannot wonder that he should be regarded by the Sicilians as the founder of the Church of that island.
Puteoli In Italy
Act 28:14
Here (Puteoli) we found brethren, who invited us to remain with them for a week; and so we reached Rome.
Act 28:15 Meanwhile the brethren there, hearing of our movements, came as far as the Market of Appius and the Three Huts to meet us; and when Paul saw them he thanked God and felt encouraged.
Act 28:16 Upon our arrival in Rome, Paul received permission to live by himself, guarded by a soldier.
Market of Appius and the Three Huts [Taverns]
tav'-ernz: Three Taverns (Latin Tres Tabernae, Greek transliterates treis tabernai; Cicero Ad Att. i0.13; ii.12, 13) was a station on the Appian Road at the 33rd milestone (301/3 English miles from Rome), according to the Itineraries of the Roman Empire (Itin. Ant. vii; Tab. Peut.; Geogr. Rav. iv.34), a converging point of traffic at the crossing of a road from Antium to Norba. Tripontium, 6 miles down the Appian Road in the direction of Appii Forum, was reckoned as the point where the highway entered the region of the Pontiac marshes, the most notable natural feature of this part of Italy.
Parties of the Christian brethren in Rome went out to greet the apostle Paul when news was brought that he had arrived at Puteoli, one group proceeding as far as Appii Forum, while another awaited his coming at Three Taverns (
Acts 28:15
).ISBE
Act 28:17 After one complete day he invited the leading men among the Jews to meet him; and, when they were come together, he said to them, "As for me, brethren, although I had done nothing prejudicial to our people or contrary to the customs of our forefathers, I was handed over as a prisoner from Jerusalem into the power of the Romans.
Act 28:18 They, after they had sharply questioned me, were willing to set me at liberty, because they found no offence in me for which I deserve to die.
Act 28:19 But, at last, the opposition of the Jews compelled me to appeal to Caesar; not however that I had any charge to bring against my nation.
Act 28:20 For these reasons, then, I have invited you here, that I might see you and speak to you; for it is for the sake of Him who is the hope of Israel that this chain hangs upon me."
Paul called the chief of the Jews together
— Though banished from the capital by Claudius, the Jews enjoyed the full benefit of the toleration which distinguished the first period of Nero's reign, and were at this time in considerable numbers, wealth, and influence settled at Rome. We have seen that long before this a flourishing Christian Church existed at Rome, to which Paul wrote his Epistle (see on Act_20:3), and the first members of which were probably Jewish converts and proselytes. (See on Introduction to Romans.)
yet was I delivered prisoner from Jerusalem into the hands of the Romans —
the Roman authorities, Felix and Festus.
Act 28:21
"For our part," they replied, "we have not received any letters from Judaea about you, nor have any of our countrymen come here and reported or stated anything to your disadvantage.
Act 28:22 But we should be glad to hear from you what it is that you believe; for as for this sect all we know is that it is everywhere spoken against."
Act 28:23 So they arranged a day with him and came to him in considerable numbers at the house of the friends who were entertaining him. And then, with solemn earnestness, he explained to them the subject of the Kingdom of God, endeavouring from morning till evening to convince them about Jesus, both from the Law of Moses and from the Prophets.
Act 28:24 Some were convinced; others refused to believe.
there came many
— "considerable numbers"
into his lodging
— The word denotes one's place of stay as a guest (Phm_1:22), not "his own hired house," mentioned in Act_28:30. Some Christian friends - possibly Aquila and Priscilla, who had returned to Rome (Rom_16:3), would be glad to receive him, though he would soon find himself more at liberty in a house of his own.
to whom he expounded and testified the kingdom of God
— opening up the great spiritual principles of that kingdom in opposition to the contracted and secular views of it entertained by the Jews.
persuading them concerning Jesus
— as the ordained and predicted Head of that kingdom.
out of the law ... and the prophets
— drawing his materials and arguments from a source mutually acknowledged.
from morning till evening
— "Who would not wish to have been present?" exclaims Bengel; but virtually we are present while listening to those Epistles which he dictated from his prison at Rome, and to his other epistolary expositions of Christian truth against the Jews.
Act 28:25
Unable to agree among themselves, they at last left him, but not before Paul had spoken a parting word to them, saying, "Right well did the Holy Spirit say to your forefathers through the Prophet Isaiah:
Act 28:26 "'GO TO THIS PEOPLE AND TELL THEM, YOU WILL HEAR AND HEAR, AND BY NO MEANS UNDERSTAND; AND WILL LOOK AND LOOK, AND BY NO MEANS SEE.
Act 28:27 FOR THIS PEOPLE'S MIND HAS GROWN CALLOUS, THEIR HEARING HAS BECOME DULL, AND THEIR EYES THEY HAVE CLOSED; TO PREVENT THEIR EVER SEEING WITH THEIR EYES, OR HEARING WITH THEIR EARS, OR UNDERSTANDING WITH THEIR MINDS, AND TURNING BACK, SO THAT I MIGHT CURE THEM.'
Act 28:28
"Be fully assured, therefore, that this salvation--God's salvation--has now been sent to the Gentiles, and that they, at any rate, will give heed."
V.28 Notes
The salvation of God is sent to the Gentiles, and they will hear — (See on Act_13:44-48). "This departure to the Gentiles" he had intimated to the perverse Jews at Antioch (Act_13:46), and at Corinth (Act_18:6); now at Rome: thus in Asia, Greece, and Italy" [Bengel].
Act 28:3
0 After this Paul lived for fully two years in a hired house of his own, receiving all who came to see him.
Act 28:31
He announced the coming of the Kingdom of God, and taught concerning the Lord Jesus Christ without let or hindrance.
Peter and the others of "the twelve" preached in the hope of the soon-coming Kingdom. The all important theme in the book of Acts is the question:
"Lord, art Thou at this time restoring the kingdom to Israel?"
However, the notable thread in the book of Acts is that Israel, and especially Jerusalem, reject the message concerning their risen Messiah. At the same time, we see how the attention shifts from "the twelve" to the thirteenth apostle: "Saul, who is also known as Paul"; a transition from Israel to the nations; a change from a glorious beginning in Jerusalem to an eventually imprisoned apostle in Rome. Have all these changes caused "the Kingdom of God" to have become a none issue? On the contrary, Paul continues to speak about the Kingdom of God. This he did in Ephesus (19:8) and elsewhere (20:25). And when he arrives in Rome, he also presents this subject to the Jewish leaders, "from morning till evening" (28:23). Why? What did Paul have to say about it? Listen to what he, in conclusion, said to the Jewish company:
Let it be known to you, then, that to the nations was dispatched this salvation of God, and they will hear."
Acts 28:28
Paul made known in Rome what he had everywhere declared in the synagogues:
the message of salvation is no longer addressed to Israel, but to the nations;
without distinction. With this, the Kingdom would (temporarily)
not
become evident, but remain hidden. It was precisely about this that Paul had much information to share. During the two years he was imprisoned in Rome, that remained his focus. Paul and the Kingdom of God
,
GoedBericht English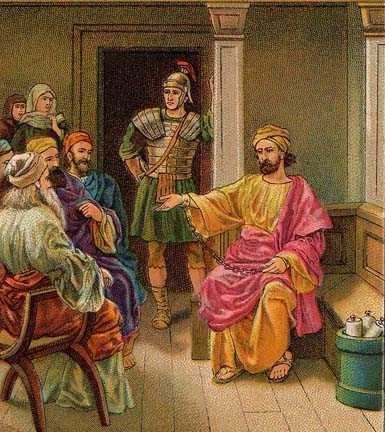 Paul Preaching of the Kingdom of God