Paul goes to Macedonia and Greece. His visits at Troas, Miletus.
Notes: From Ephesus he set out for Macedonia.
Paul's Third Missionary Journey
Paul had been three years at Ephesus

that huge Roman and GreeK metropolis in Asia Minor.(now Ezmir in Turkey). The Ephesian Church had matured and now Paul leaves for Macedonia. He travelled through the area strengthening the churches. What a thrill to see what God had done after starting many of these churches on the Second Missionary Journey.
He finally arrived in Greece and stayed three month
s. Acts 20 :3
Because the Jews had made a plot against Him as about to set sail for Syria he travelled back through Macedonia. He was accompanied on his travels by Sopater son of Pyrrhus from Berea, Aristarchus and secundus from Thessalonica, Gaius from Derbe, Timothy also and Tychicus and trophimus from the Roman Province of Asia. This was quite a large Missionary band. remember they were walking through that region. Perhaps these young men were his bodyguard. They were certainly young ministers of the Gospel. These young men eventually went on ahead and waited for Paul and Luke at Troas.
In Troas Eutychus was raised from the dead
. Acts 20:7-11 He had fallen asleep and fallen from the third story in the middle of the night. After raising him up and breaking bread with them for the last time he continued to speak until daylight then left for Assos on foot.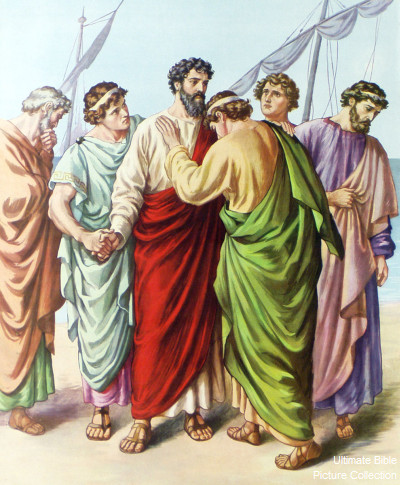 Saying Goodbye to the Ephesian Elders
Paul's conference with the Ephesian Elders on the beach at Miletus Acts 20:17-38
Key Word: Testifying,
Act_20:21, Act_20:24.
Act 20:18 Upon their arrival he said to them, "You Elders well know, from the first day of my setting foot in the province of Asia, the kind of life I lived among you the whole time,
Act 20:19 serving the Lord in all humility, and with tears, and amid trials which came upon me through the plotting of the Jews--
Act 20:20 and
that I never shrank from declaring to you anything that was profitable, or from teaching you in public and in your homes,
Act 20:21 and urging upon both Jews and Greeks
the necessity of turning to God and of believing in Jesus our Lord.
Act 20:22 "And now, impelled by a sense of duty, I am
on my way to Jerusalem
, not knowing what will happen to me there,
Act 20:23 except that the Holy Spirit, at town after town, testifies to
me that imprisonment and suffering are awaiting me.
Act 20:24
But even the sacrifice of my life I count as nothing, if only I may perfect my earthly course
, and
be faithful to the duty which the Lord Jesus has entrusted to me of proclaiming, as of supreme importance, the Good News of God's grace.
Neither count I my life -
I do not consider my life as so valuable as to be retained by turning away from bonds and persecutions. I am certain of bonds and afflictions; I am willing also, if it be necessary, to lay down my life in the prosecution of the same purpose. Barnes
Act 20:27 For I have not shrunk from declaring to you God's whole truth.
Act 20:28 "Take heed to yourselves and to all the flock among which the Holy Spirit has placed you to take the oversight for Him and act as shepherds to the Church of God, which He has bought with His own blood.
Conclusion: As witnesses of the grace of God through Jesus Christ, we ought not to hold our lives of any account to ourselves in comparison with accomplishing our course and declaring the whole counsel of God. Being ourselves made pure by the blood of the Son of Man, it behooves us to make ourselves pure from the blood of the sons of men.
Other strong verses Act_20:27, Act_20:28, Act_20:32, Act_20:35.
Striking Facts: Act_20:28. The priceless cost of redemption is here seen—the blood of God. See 1Ti_3:16. Christ's deity is thereby asserted. His blood was of infinite value—being God's blood.