The Great Dispute in the Early Church - Circumcision and Imposing of Jewish laws and customs.
Acts 15:1-35
Act 15:1
But certain persons who had come down from Judaea tried to convince the brethren, saying, "Unless you are circumcised in accordance with the Mosaic custom, you cannot be saved."
Act 15:2
Between these new-comers and Paul and Barnabas there was no little disagreement and controversy, until at last it was decided that Paul and Barnabas and some other brethren should go up to consult the Apostles and Elders in Jerusalem on this matter.
Notes:
The persons who taught this doctrine appear to have been converts to Christianity; but, supposing that the
Christian religion was intended to perfect the Mosaic, and not to supersede it,
they insisted on
the necessity of circumcision
, because, by that, a man was made debtor to the whole law, to observe all its rites and ceremonies.
This question produced great disturbance in the apostolic Church
; and, notwithstanding the decree mentioned in this chapter, the apostles were frequently obliged to interpose their authority in order to settle it; and we find a whole Church, that at Galatia, drawn aside from the simplicity of the Christian faith by the subtilty of Judaizing teachers among themselves, who insisted on the necessity of the converted Gentiles being circumcised.
You cannot be saved
- You can neither enjoy God's blessing in time, nor His glory in eternity. Such an assertion as this, from any reputable authority, must necessarily shake the confidence of young converts.
It was decide to send Paul, Barnabas and some others to Jerusalem to Consult the Apostles and Elders on this matter.
The Council in Jerusalem
Act 15:5 But certain men who had belonged to
the sect of the Pharisees
but were now believers, rose up in the assembly, and said, "
Yes, Gentile believers ought to be circumcised and be ordered to keep the Law of Moses."
But there rose up (
exanestēsan de)
. Second aorist active indicative (intransitive). Note both exō and an. These men rose up out of the crowd at a critical moment. They were believers in Christ (pepisteukotes, having believed), but were still members of "
the sect of the Pharisees"
(tēs haireseōs tōn Pharisaiōn).
Evidently they still held to the Pharisaic narrowness shown in the attack on Peter (Act_11:2.).
Note the dogmatism of their "must" (dei) after the opposition of Paul and Barnabas to their "except" (ean me) at Antioch (Act_15:1). They are unconvinced and expected to carry the elders with them. Codex Bezae says that they had appealed to the elders (Act_15:2, Act_15:5).
At any rate they have made the issue in open meeting at the height of the jubilation. It is plain from Act_15:6 that this meeting was adjourned, for another gathering came together then. It is here that the
private conference of which Paul speaks in Gal_2:1-10 took place. I
t was Paul's chance to see the leaders in Jerusalem (Peter, James, and John) and he won them over to his view of
Gentile liberty f
rom the Mosaic law so that the next public conference (Acts 15:6-29) ratified heartily the views of Paul, Barnabas, Peter, James, and John.
It was a diplomatic triumph of the first order and saved Christianity from the bondage of Jewish ceremonial sacramentalism.
So far as we know this is the only time that Paul and John met face to face, the great spirits in Christian history after Jesus our Lord. It is a bit curious to see men saying today that Paul surrendered about Titus and had him circumcised for the sake of peace, the very opposite of what he says in Galatians,
"to whom I yielded, no not for an hour."
Titus as a Greek was a red flag to the Judaizers and to the compromisers, but Paul stood his ground.
A Special conclave of the Leaders
Act 15:6 Then the Apostles and Elders met to consider the matter;
Act 15:7 and after there had been a long discussion Peter rose to his feet. "It is within your own knowledge," he said, "that God originally made choice among you that from my lips the Gentiles were to hear the Message of the Good News, and believe.
Act 15:8 And God, who knows all hearts, gave His testimony in their favour by bestowing the Holy Spirit on them just as He did on us;
Act 15:9 and He made no difference between us and them, in that He cleansed their hearts by their faith.
Act 15:10 Now, therefore, why try an experiment upon God, by laying on the necks of these disciples a yoke which neither our forefathers nor we have been able to bear?
Act 15:11 On the contrary, we believe that it is by the grace of the Lord Jesus that we, as well as they, shall be saved."
Act 15:12 Then the whole assembly remained silent while they listened to the statement made by Paul and Barnabas as to all the signs and marvels that God had done among the Gentiles through their instrumentality.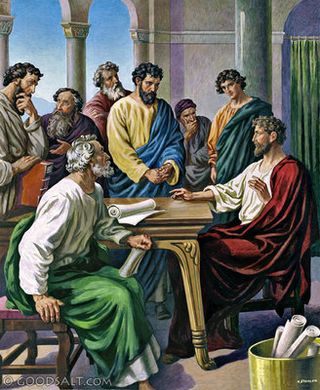 The Leaders in Jersalem under James deliberate
The Decision of the Council
Act 15:22 Thereupon it was decided by the Apostles and Elders, with the approval of the whole Church, to choose suitable persons from among themselves and send them to Antioch, with Paul and Barnabas.
Judas, called Bar-sabbas, and Silas, leading men among the brethren, were selected,
Act 15:23 and
they took with them the following letter
: "The Apostles and the elder brethren send greeting to the Gentile brethren throughout Antioch, Syria and Cilicia.
Act 15:24 As we have been informed that certain persons who have gone out from among us have disturbed you by their teaching and have unsettled your minds, without having received any such instructions from us;
Act 15:25 we have unanimously decided to select certain men and send them to you in company with our dear friends Barnabas and Paul,
Act 15:26 who have endangered their very lives for the sake of our Lord Jesus Christ.
Act 15:27 We have therefore sent Judas and Silas, who are themselves bringing you the same message by word of mouth.
Act 15:28 For it has seemed good to the Holy Spirit and to us to lay upon you no burden heavier than these necessary requirements--
Act 15:29 You must abstain from things sacrificed to idols, from blood, from things strangled, and from fornication.
Keep yourselves clear of these things, and it will be well with you. Farewell."
Applications
1. Don't be afraid of standing your ground on the Truths of the Essential Doctrines.
2. Seek the Confirmation of the Elders.
3. We are free from Judaising laws and restrictions in Christ.